In a week of outcry over the Senate's report on CIA torture, human rights groups say harsh treatment of migrants still meted out the on US border.
Migrants without papers sit in a holding cell at the US Border Patrol detainee processing center n McAllen. Photograph: John Moore/Getty Images
Josefina Peralta made the gruelling journey from her home in Honduras to Texas in May, venturing a perilous crossing of the Rio Grande River and passing across the US border at night in search of safety, opportunity and a new life. Within hours of making the crossing, she was picked up along with her infant daughter and four other women by officers of Customs and Border Protection (CBP) and taken to a temporary holding station in a rural area outside McAllen.
Peralta (not her real name) was put into a 15ft by 45ft concrete cell with about 30 other migrants from Central America who had made the similar dangerous and traumatic journey. Her clothes were still wet from crossing the river, but according to the account she gave human rights researchers, CBP officers wouldn't let her change into the dry clothes she had ready in her backpack.
The cell was a "cold box", she said, and she and her child shivered on the concrete floor. She reported losing sense of time, as there were no windows in the border station where they were being held.
She was detained in the border station for two nights and two days, by her estimation, then flown to the Tucson border station, where she was held for a further seven days. There she and her daughter were again put into a cell so cold that her lips chapped, she developed a cough and eventually contracted a fever that led to a brief hospitalisation.
Peralta's story is told as part of a survey of Central American migrants who passed over the US border illegally this summer and who were held in temporary detention facilities in southern Arizona. The report, produced by human rights activists working with Guatemalan migrants along the border, found a pattern of alleged violations in CBP border stations that included widespread reporting of the extreme cold of the sort that made Peralta sick.
Of the 33 adult migrants who were interviewed in depth for the reportafter coming through Tucson-area border stations between May and July, 94% complained that the bare concrete cells in which they were kept had been too cold or even freezing. Each detainee was allowed only a single garment in which to sleep, with only a bare concrete floor to lie on.
Many complained of sleep deprivation, having been disturbed by the cold, the lack of bedding, loud noises outside the cells and being woken up in the middle of the night by agents to sign release papers. Thirty of the 33 individuals in the survey said they had been unable to sleep because of the bright lights that were kept blazing inside the cells 24 hours a day.
The experiences of Peralta and her fellow migrant detainees are not isolated. Immigration lawyers and human rights groups have long reported a pattern of alleged violations by CBP officers – a trend which, the organizations believe, suggests a systemic level of abuse designed to punish those who have illegally entered the US, intimidate them into waiving their rights and submitting to instant repatriation, and deter others who might follow them.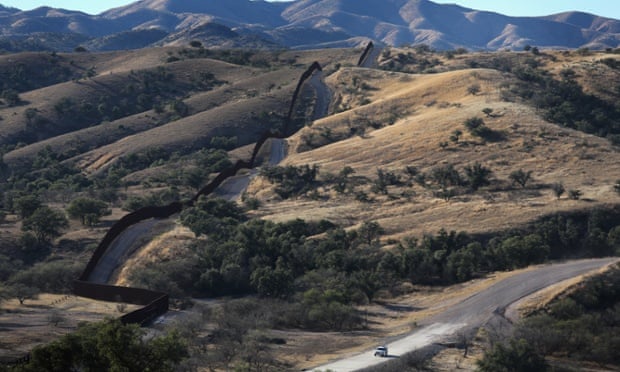 In the week of the explosive Senate intelligence committee report on the CIA's interrogations of terror suspects under the Bush administration, parallels are being drawn with the abusive detention techniques still routinely practiced on US soil. Though the more recent reported abuses are nowhere near as grotesque as the torture revealed by the Senate report, they do amount, advocacy groups say, to systematic rights violations that incorporate some techniques also deployed in the CIA's now-discredited rulebook, including sleep deprivation, disorientation and psychological abuse.
"When we asked former detainees how long they were held in the border stations, we heard over and over again that they did not know. We asked why, and they said because they weren't sure whether it was night or day."
Accounts of harsh treatment in CBP border stations have been recorded persistently over several years. In 2011, the border organization No More Deaths carried out a survey of 13,000 migrants in which more than half reported inhumane conditions in temporary holding cells, with one of the most common complaints being extreme cold.
The report compared the experience of detainees against the UN's definition of "psychological abuse", as given in the convention against torture, and found several similarities. In addition to extreme temperatures, there were instances of detainees being forced to stand in strenuous or painful positions, apparently as a form of humiliation; prevention of sleep through forced standing or banging on cell doors; and "playing music, such as traumatizing songs about people dying in the desert, loudly and continuously". (The use of loud music in border stations appears to have been stopped.)
No More Death's Hannah Hafter said that what concerned the group most was the lack of oversight of the border patrol stations, which are often located in remote, rural areas. She said the absence of scrutiny allowed an official view to proliferate that she described as the "dehumanization of immigrants in custody – the message is going out that they do not deserve basic human rights".
In response to Guardian questions, the CBP said that the border stations were designed to provide for the "security, safety and well-being of those in our custody". In a statement, the agency said that temperatures in the cells were set to 70F (21C) and detainees were given blankets, while facilities were lit to ensure the safety of the immigrants in custody and border agents.
"As a matter of policy, border patrol agents are required to treat all those they encounter with respect and dignity. This requirement is consistently addressed in training and consistently reinforced throughout an agent's career. On a daily basis, agents make every effort to ensure that people in our custody are given food, water, and medical attention as needed. CBP takes the welfare of detainees seriously and does not tolerate agent misconduct or abuse and investigates all allegations of misconduct."
Yet human rights groups report a continuing and persistent pattern of alleged abuses along the border. Americans for Immigrant Justice has chronicled the use of so-called "Hieleras" or "ice boxes" in the Rio Grande Valley in Texas, where migrants who have illegally crossed into the US are kept in freezing holding cells, in some cases for several days.
Among those subjected to harsh treatment, the group has found, are numerous migrant children. Children have described temperatures in the cells that turned their lips blue and made their fingers numb.
AI Justice's executive director, Cheryl Little, said that though the complaints "do not rise to the level of the Senate intelligence report, we are talking about systemic techniques that could be described as abusive. These are people who have risked their lives to cross the border in search of security and freedom – all they are looking for is due process."
In several cases, AI Justice has found, the brutal conditions in the border stations intimidated detainees into signing documents in which they waived their rights to a full hearing, thus prompting instant deportation. "It's a common belief among immigrants that the system is designed to force them into giving up their rights."
In October, the American Civil Liberties Union presented evidence to the UN's committee against torture in Geneva in which it itemised cases of what it called the "abhorrent treatment of unaccompanied minors at border patrol stations". It cited instances of children being forced to stand in stress positions for long periods of time and consistent reports of minors "being held in unsanitary, overcrowded, and freezing-cold cells".
The ACLU's border litigation staff attorney, Mitra Ebadolahi, said: "The core question at play here is whether people are treated with a basic level of dignity in their encounters with law enforcement officers. It may not amount to torture, but it's still a form of very serious abuse, particularly when we are dealing with a population that has already suffered extreme trauma crossing the border."
The relative absence of oversight for the temporary holding stations along the border has attracted Congressional attention. Lucille Roybal-Allard, a Democratic representative to Congress from California who has introduced legislation to ensure humane treatment of immigrant families at the border, told the Guardian: "We have an obligation as Americans to ensure that everyone in our government's custody is treated with basic human dignity. I remain extremely concerned about the conditions in which migrants, including young children, are held at border patrol stations."
Roybal-Allard is pressing CBP to implement improvements to standards and oversights as quickly as possible. She also wants to see "complete and independent investigation of at least 28 fatalities involving CBP personnel since 2010."
http://www.theguardian.com/us-news/2014/dec/12/migrants-face-brutal-conditions-after-capture-sleep-deprivation